Why Lindy Hop and Solo Jazz
First, we are dancers, not just leaders and followers. We love the connection of Lindy Hop and the moments we share when we dance together. 
We want to incorporate solo movement as an expression of this art form and an opportunity to improve partner dancing.
We will focus on self-expression while promoting a deep appreciation and understanding of Swing and Jazz music and the African-American roots of this dance.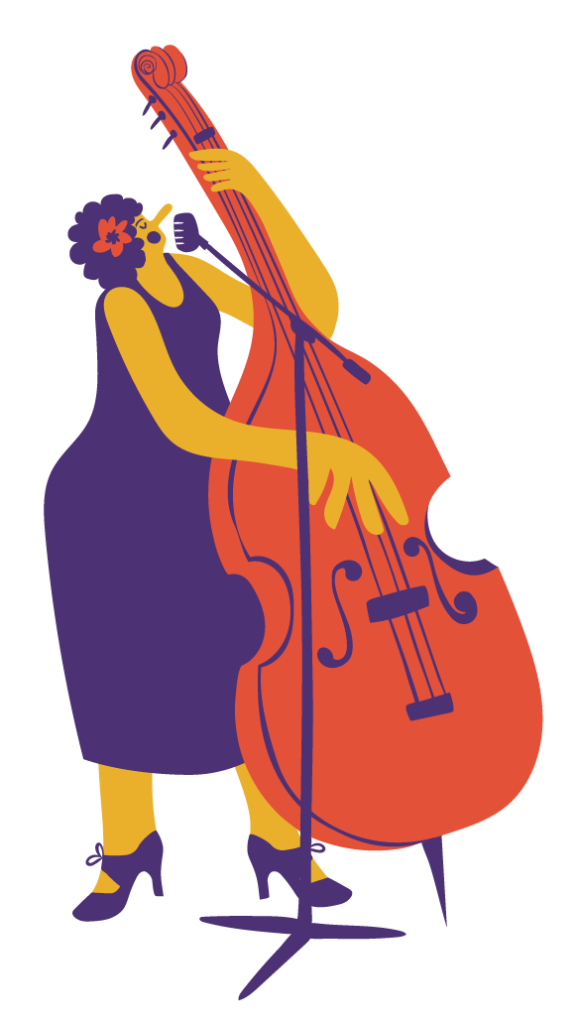 You will learn with experienced and inspiring teachers, with an approachable, inclusive attitude. They all come from different backgrounds and will share their unique journey.
Our camp wants to encourage interaction and knowledge-sharing between dancers and musicians. Every level will have a 1h30 musicality masterclass with live music.
7.5 hours of Lindy Hop (including the musicality masterclass) and 1.5 hours of Solo Jazz will be distributed between Friday morning and Sunday morning. You'll always find time to share, experiment and party.
They are maybe just the right amount of crazy you've been looking for. She comes from Lithuania, while he comes from Los Angeles and together, they have this Euro-American style all about fun and connectedness. Their musicality, playfulness, and creativity are not just parts of their light-hearted personalities as dancers, but also as instructors. For them, Lindy Hop is much more than only leading and following… it's dancing… trying to feel your partner… and in the meantime having a freaking great time!
Their energy is contagious and their class material is stimulating. Be prepared for loud laughs, crazy fun, and exciting new moves!
Ari and Simon are passionate Lindy Hop and Authentic Jazz teachers, performers, and choreographers who are committed to preserving and promoting these dance forms in the context of their cultural traditions, values, and artistic expression.
Having worked together since 2016, they are based in Madrid and travel worldwide to share their knowledge and love of the dance.
An energetic and rhythmical couple who love the interplay between the individual, the music and the partner during a dance and how it can develop into a beautiful conversation.
Their passion for the dance and the culture of swing has grown with them and is something they constantly strive to develop and express, whether in classes, on stage or in competition.
Sonia and Hector are professional Lindy Hop dancers who have been teaching the dance since 2003. They have helped to promote the swing dance boom in Barcelona and now travel all around the world involved in "spreading the Lindy Hop word", demonstrating their love and enthusiasm for the dance.
Their teaching focuses on the fundamental aspects of Lindy Hop: bouncing, partner communication and quality of movement form the basis of their teaching. Hector and Sonia use their own creativity to help inspire and guide their students. Feedback has shown them that students enjoy clear examples to explain certain movements.
Pedro discovered Lindy Hop and Authentic Jazz in 2012. His enthusiasm for the dance was so strong that, one year later, he started to teach.
His passion led him to try new styles and become a regular teacher of Lindy Hop, Authentic Jazz, Collegiate Shag, Balboa, and Boogie-Woogie, both in Porto (Portugal) and Vigo (Spain). Nicholas Brothers, Al Mins and Leon James are some of his biggest inspiration.
For him, every partner dance consists of this trinity:
First part being each dancer as an individual and to be able to explore their movement freely, then the second part being the connection to the music which again is very personal and the third part being the connection between the leader and follower in the dance.
And in each new song and new partner you dance with it's always a different balance of this three things and that's the beauty of it!
We know it's hard to identify your level sometimes. Our classes will have interesting content for every group.
You've been dancing Lindy Hop for at least 9 months. You already learned in classes and social dance moves like: basic 6 counts with triple steps, swing out, circle and basic Charleston steps like tandem Charleston and hand-to-hand. You are excited to (maybe) go to your first festival and improve your dance by learning new vocabulary and discovering more about connection.


You might have tried or not some solo jazz classes or know some solo jazz moves and routines like the Shim Sham, but you are excited to learn and explore more about the routes of Solo Jazz.
Level 2: Intermediate-Advanced
You've been dancing for at least 1.5 years, taking classes and social dancing. You are comfortable with the basics like swing out, circle, tuck-turn, outside turn and you already know a lot of moves that you cannot name. You are able to improvise and maybe add some Solo Jazz moves to your partner dancing. You can mix between triple steps and kicks, 6 and 8 count and you can dance fast and slow tempos. You are excited and open to receive new ideas around musicality, connection and to add diversity to your dance.
You have learned some basic routines like the Shim Sham, tried alone or in classes some Solo Jazz moves. You are ready to learn some more vocabulary or pick the harder challenges also provided in class.
You've been dancing for at least 3 years, and you have been to some festivals already. There's no doubt that dance is in your life to stay. You are comfortable with different tempos, different types of partner connections and you feel like you can improvise and stay connected with your partner, the music and yourself. Vocabulary is not your priority and you want to know more about the origins of the dance, to find your own voice and to feel more free to express your dance.
You have learned some basic routines like the Shim Sham, tried alone or in classes some Solo Jazz moves. You are ready to learn some more vocabulary or pick the harder challenges also provided in class. If you already dance Solo Jazz frequently the classes will have challenges for you too.
To join the Advanced+ level, you are required to audition on the first morning (Friday at 10:30 am). This is the best way to check all levels and be considerate to the majority of dancers, keeping the best balance possible. If you don't stay on the Advanced+ level, don't take it personally – We are sure you will still learn a lot on the Advanced level with our great teachers and you can always ask for extra challenges.
You've been dancing for at least 4 or 5 years. You must be comfortable in all tempos, from very slow to very fast, and be an experienced social dancer. Most of the times you're placed at the highest levels in international workshops. You might be teaching locally, performing or/and competing. You are eager to learn new approaches, to get inspired and to continue the path to find your own voice in dance.
You have taken Solo Jazz classes, regularly or not, dancing solo doesn't scare you although you might not have as much experience as you have with Lindy Hop. If you already dance Solo Jazz frequently the classes will have challenges for you too.
Led by João Lobo, from 24 Robbers, you'll be producing beautiful melodies and rhythms with nothing but bottles and your own creativity. This class is not only about music; it's about sharing a special moment together through the universal language of sound. No prior musical experience required, just an open mind and a desire to explore. Come join us and let's make music memories together! 
João Lobo is a musician driven by a commitment to authenticity. He sees music as a means to both captivate and challenge the audience. Unconcerned with labels, his goal is to share personal experiences and desires. His truest expression unfolds on stage, where performance transcends, connecting us through a shared musical experience. 
Last year we sang and played the song "Down by The Riverside" and it was a blast. This year, start practicing "When You're Smilling" and join your new band-mates/camp friends!
Our Riverside Band is going to lead you again into an amazing experience together, either you want to sing, play an instrument or just slap a hand-made bucket bass.
If you're an amateur musician and want to play, send us a message with your phone number and we will gather you all in one Whatsapp group – This will be your channel to exchange music sheets and start to get to know each other.
Margarida Martins is a Portuguese singer, guitarist, and songwriter. 
Currently, she serves as the vocalist for the swing jazz band "Stomping at Six", sings as a chorus member and soloist in the gospel choir "Soul Gospel Project", is a vocalist, guitarist, and percussionist in the jazz and world music group "Dwop", and performs for her solo rock project "Daisy".
This year, our song will be  "When You're Smilling"
And with the amazing skills of Margarida, we know you'll find the chorus member in you! Come join this amazing group feeling of singing together.
Be the first to learn our camp choreography with the wonderful Kari Sha.
Kari is a dancer, teacher and choreographer from Belarus and Poland. She's a pioneer of Chorus Line dance in Poland and a member of the Herrang Dance Camp Daily Meeting Chorus Line in Sweden. She's part of the Little Big Apple School team.
Check the video from last edition here!
Immerse yourself in the pulsating rhythms of Afrohouse, a vibrant fusion of African beats like Kwaito, Tribal, Deep and Soulfulful House, with the amazing MIguel Garcia,
Originated in South Africa in the 90s, and much influenced by Kuduro in Angola, this dance will transport you beyond your comfort zone into a realm of exhilarating movement. 
Miguel Graça is a dancer, teacher and choreographer with a contagious positive energy. You might know him from his previous projects: "Os De Bala School," a Dance group founded in 2008, and "Pupilos do Kuduro," a band of Musicians and Dancers in the mid-2014. Miguel's way of teaching spreads great vibes all around the dancefloor.
Old Clips Inspired Movement
From some videos, we will explore movement, new types of expression and rhythms. The goal is to bring those inspirations to the dance floor and get tools to improvise with. This class will be open level, with a challenge for everyone.
Kari Sha is a dance teacher, choreographer, actress. She started her dance career in Poland 9 years ago. At the same time, she was studying Theatre and developing her acting skills. After a few years of dancing, teaching in different cities in Poland and playing in theatres, she decided to move to the ocean and teach in Lisbon. Since 2021 Kari is teaching Solo Jazz, Chorus Line, Charleston and Lindy Hop in Little Big Apple School. Also, she became a cofounder of Two To Jazz (YouTube channel), a project about history of Jazz and Swing Dances.
Feedback is such a powerful tool when used in favor of growth. In this taster, you'll learn how to make the most of a dance class, ask and receive feedback, deal with dance practices, and help people around you feel empowered to grow from the interactions instead of frustrated from the unwanted feedback. 
This session is for everyone, whether you are a newbie dancer or maybe just starting to give some classes.
David and Cátia are dance teachers based in Lisbon where they have their own school and teach for more than 10 years together. Their passion for teaching, and empowering people to find their own way, led them to teach internationally. They believe in self-improvement and constant growth led by passion and hard work, supported by the community.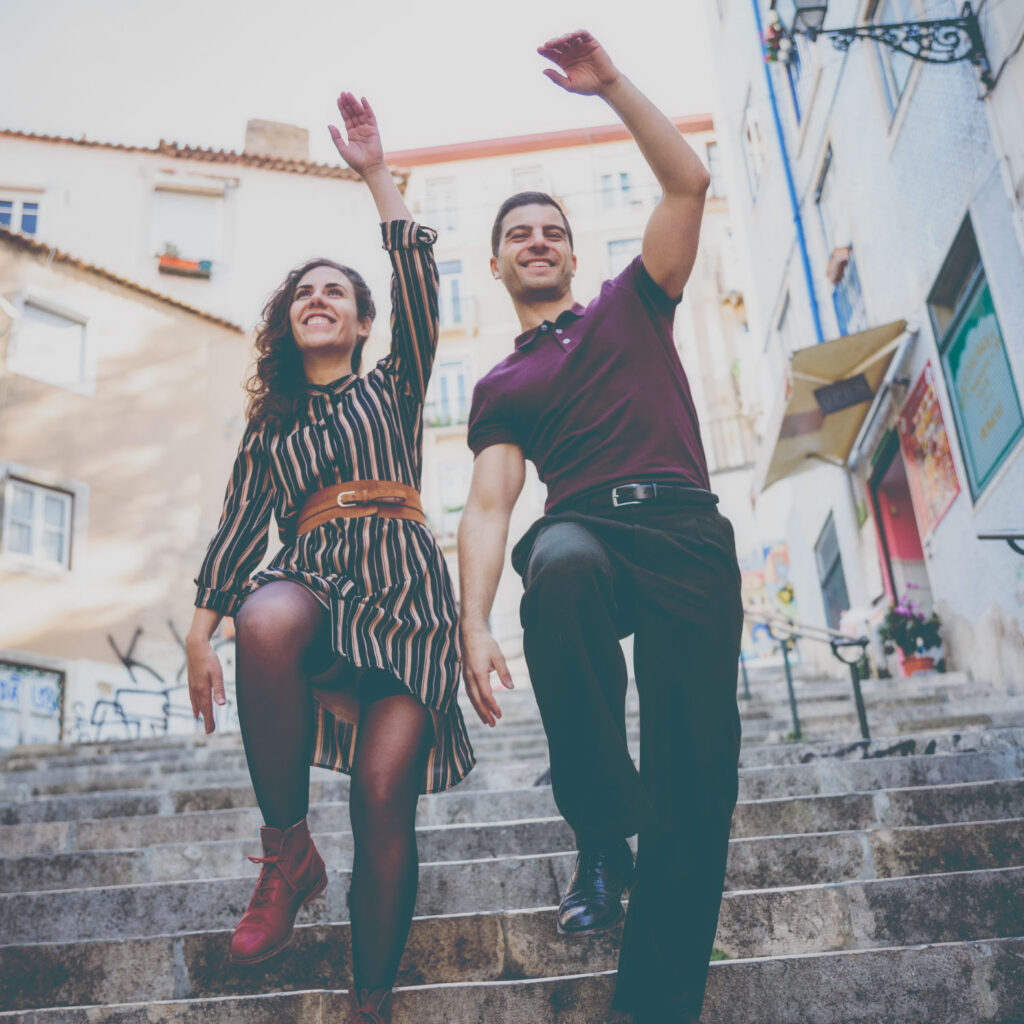 You will learn how to make a jam happen, how to enter it, and how to shine once you're in it. This session is open to dancers on every level and focus mostly on the Spontaneous Jams that happen when the music gets fast and energetic.
Since 2009, Danish dancer Kuno Rasmussen has embodied passion, playfulness, and precision in the Lindy Hop community. His rhythmic dance, influenced by his musical background, is infused with improvisations that harmonize with swing music's lively beats.
Kuno has travelled the world and taught at a long range of international events. With 14 years of dedication, Kuno continues to inspire, educate, and spread the joy of swing dance wherever he goes.
Explore your creativity and spontaneity with Cátia and Henrique. In this class, we will use techniques from different improvisational art forms to help us connect with each other in diverse ways. Take these out of the box exercises and get surprised on the dance floor!
Cátia's biggest passion is to bring the love of swing dance to as many people as she can. Henrique's huge smile on the dance floor and his groovy moves go well with his ability to inspire and make people laugh during class.
They have been teaching together since 2018 at Little Big Apple, in Portugal.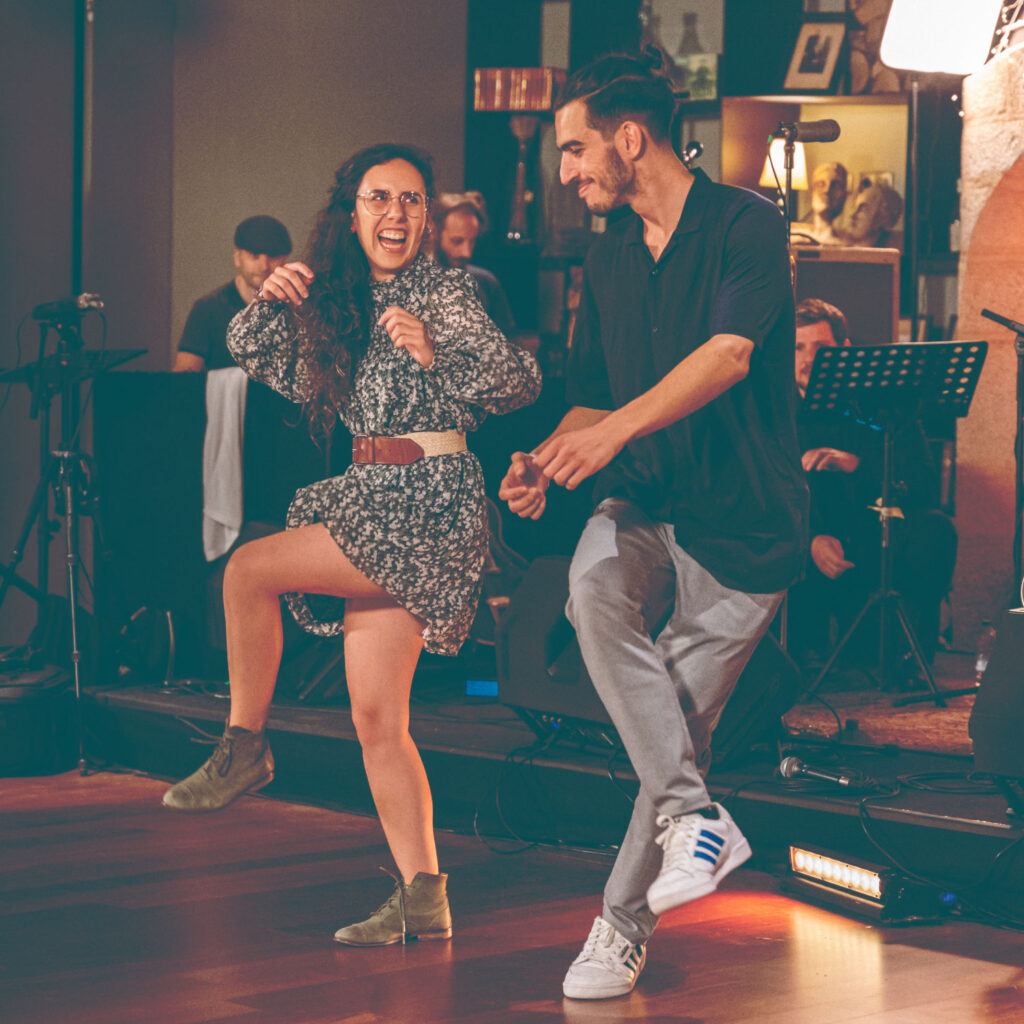 Most of our classes will happen in the Hotel, just a 2-minute walk from your room, by elevator if you're really, really tired from yesterday's party… which you will be.

We will have 2 extra rooms outside the hotel. Each one of them is less than 5 minutes away.