4 parties with live music, from Wednesday to Saturday night.
A farewell parade down by the riverside on Sunday afternoon, where you can dance, play an instrument or sing.
We will have performances by our amazing teachers and we invite you to share your passion too! If you want to perform drop us a line by e-mail, we would love to hear your ideas.
We believe competitions can be friendly and exciting. They can make you grow as a dancer and inspire others too. More information on this soon.
Swing Shouters is a quintet with powerful and communicative energy who arranges and plays jazz standards from 30's to 40's.
As the band was born within the dance school Swing & Shout (Tours, France) their music is ideal for swing dancers.
With more than 300 gigs under their belt the Swing Shouters had become one of the most popular bands in the international Swing community.
Sylvain Roudier: Tenor Saxophone and Vocals
Benoist Pasquier: Trombone
Carl Cordelier: Double bass and Vocals
Alban Aupert: Drums
David Ménager: Guitar and Vocals
24 Robbers Swing Band - Septet
One of the very few vintage jazz bands in Portugal, 24 Robbers are well known on the dance-floors of lindy hop, where their swinging groove makes it hard to stop dancing.
Though in 2015 when the band was first formed, it was meant for dancers only, lately 24 Robbers are reaching a way broader audiences from festivals to TV awards, from big stages around the country to more intimate private events.
This international group, that truly appreciates the art of swing, is heavily influenced by such names as Duke Ellington, Louis Armstrong, Ella Fitzgerald, Billie Holiday and many other great stars from the 1920s to the 1940s.
Kristina Zurauskaite: Vocals
João Pedro Silva: Guitar
Hugo Esteves: Drums
Heriberto Rojas: Double bass
Julien Silvand: Trompet
Francisco Menezes: Saxophone
Máxim Colls: Clarinet
Four members of the local and international community got together just for our event! You will get to know Mattia Corda, Hugo Esteves, Julien Silvand and Maka The Monkey during your live music class and you can join them for a Taster and our Farewell Parade. Bring your instrument and jam with them!
All parties will happen at our beautiful hotel, Grande Hotel Thermas. Our Main Hall features a real wooden floor, big windows, elegant lights, and a great acoustic. You can party hard and have a nice drink at the bar, at an affordable price.
In this competition, you can register alone as Leader or as Follower. In the prelims you will be judged individually dancing with different partners. If you get to the finals, you will have one randomly chosen partner and be judged as a couple. The finals will have live music from Swing Shouters. Expect some craziness that can only happen at Little Big Swing.
In the middle of September, you will receive an e-mail with a form to register for the competition. 
The prizes will be announced soon!
Join this competition with your partner and dance to a song by the wonderful Swing Shouters. Although dancing with your partner, this competition is still a social dance competition by heart. Long choreographed sequences will not be as valued as spontaneous improvised moments.
In the middle of September, you will receive an e-mail with a form to register for the competition.
The prizes will be announced soon!
At Little Big Swing you have the chance to challenge yourself and make cool things together. From Thursday to Saturday, you're invited to create a 30-second routine for a randomly picked song edited by us, with another participant(s). You can register during the camp and perform it on Saturday night. Take this time to get to know someone, develop a small project as a group, and grow together. The prizes will be announced soon!
We'll have performances from our teachers and team. But the floor is also yours! Check the best moments to shine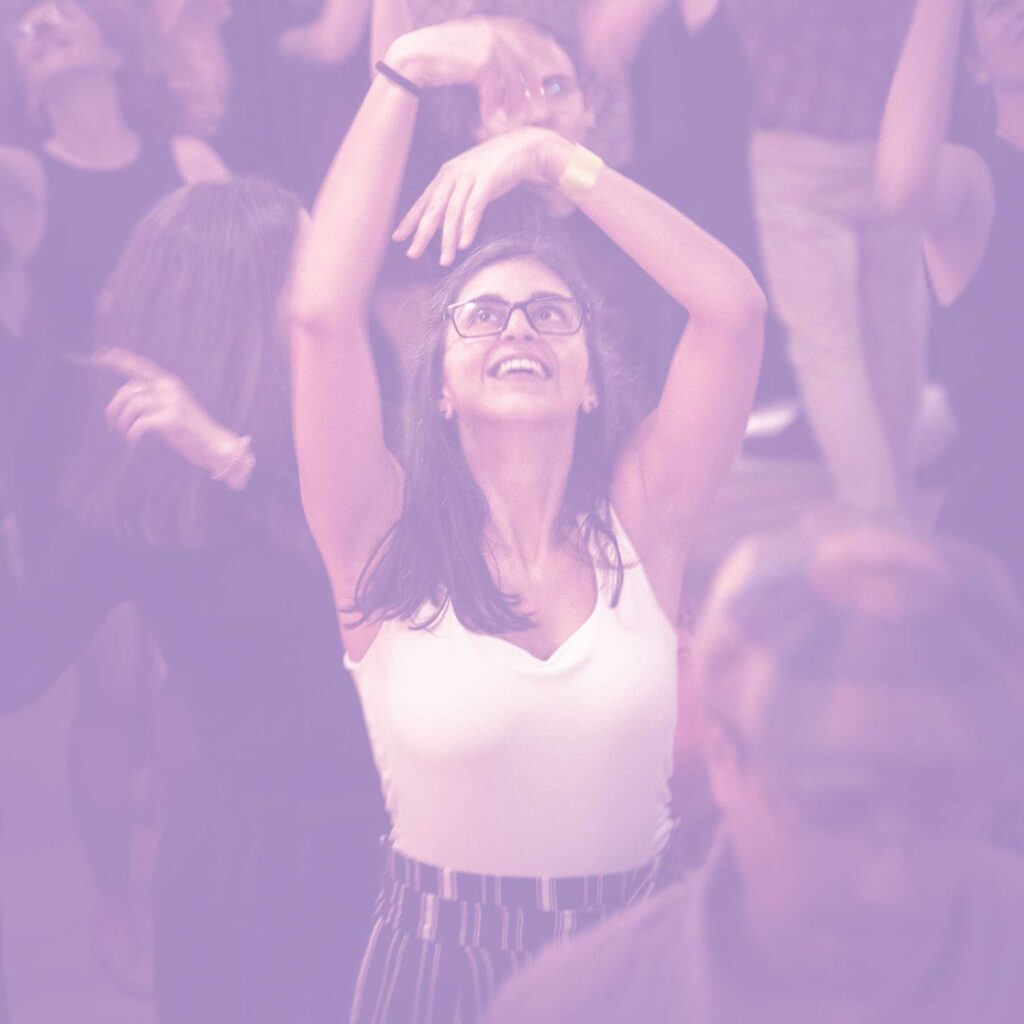 Wednesday to Saturday nights
Share a dance performance! If you have an act prepared, alone or in a couple/group, this is the place to show it. We'll ask you not to pass a 3-minute piece and register first, sending us a brief description, name and song to lbswing.com@gmail.com
Dance by the River Challenge
Our beautiful location will make you want to create things, and there's a balcony that is perfect to dance on. We'll share this nice spot during the festival and encourage you to make a video dancing on it. It must have a minimum of 15 seconds and be shared on Facebook or Instagram, as a post or story, tagging @littlebigswingcamp. All participants win a fresh beer at the bar!
This is where you can show what you learned at our Tasters (camp choreo, choir singing and playing in a band). All the times you jammed and danced will be celebrated one last time, as we dance through the town of São Pedro do Sul. This is a way to give back to the local community that welcomed some crazy lindy hoppers, share our culture, and bring some smiles.